Each module has a "build number" that is effectively a version number.
To find the build number right click on a blank area of a module to display the following menu…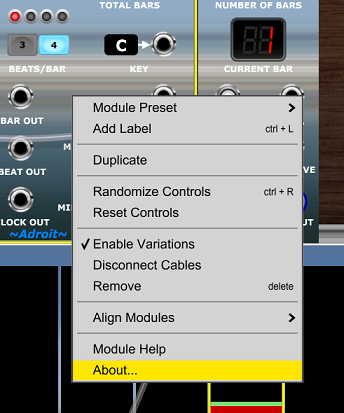 Select the About… option. This will pop-up something like the following display…
In the example screen shot above the Song Control module's build number is #56.
The list below shows the current build numbers for all Adroit modules. You can use it to check that any particular module on your computer is the most up-to-date version available.
| | |
| --- | --- |
| AHR Generator | #27 |
| Bar Watcher | #8 |
| Beats | #3 |
| Blues Scale | #26 |
| Chord | #15 |
| Chord From Scale | #5 |
| Chord Memory | #22 |
| Chord Player | #26 |
| Chromatic Scale | #21 |
| CV Sequencer | #40 |
| CV Watcher | #17 |
| Diatonic Triads | #25 |
| Drum Sequencer | #19 |
| Dual VCA | #17 |
| Eight to One Poly Switch | #6 |
| Fader | #2 |
| Granular Synth | #117 |
| Granular Synth Breakout | #26 |
| GS MIDI X | #10 |
| GS Multiplex | #26 |
| Groove | #54 |
| Hit | #3 |
| Inversion | #12 |
| Major Scale | #23 |
| Melody Sequencer | #59 |
| MIDI Compensator | #16 |
| MIDI Drum Kit | #26 |
| MIDI Panic | #25 |
| MIDI Patch | #18 |
| MIDI Trap | #2 |
| Minor Scales | #23 |
| Modal Scales | #8 |
| Mono To S-Poly | #15 |
| N-Step Aux | #113 |
| N-Step Main | #139 |
| N-Step Remote | #3 |
| Named Multiple | #29 |
| Note Watcher | #23 |
| Octaves | #7 |
| Pitch Adjuster | #13 |
| Progression | #31 |
| Rhythm Sequencer | #80 |
| S-Poly Adapters | #18 |
| S-Ply To Mono | #11 |
| Sample & Hold | #8 |
| Scratch | #7 |
| Skin | #6 |
| Song Control | #62 |
| Song Part | #49 |
| Stereo Fader | #2 |
| Tandem | #5 |
| Tempo | #13 |
| Time Flow Changer | #7 |
| Time Split 16 | #10 |
| Time Split 2 | #56 |
| Time Split 4 | #13 |
| Time Split 8 | #11 |
| Time Split Binary | #16 |
| Time Split Break | #9 |
| Time Split Build | #10 |
| Time Split Fills | #12 |
| Time Split Random | #5 |
| Triggers | #3 |
| V/Bar Utility | #12 |